brown rice tabbouleh
https://calgaryavansino.com/recipes/brown-rice-tabbouleh/
Ingredients
1 tbsp olive oil
1 shallot, peeled and roughly chopped
1 courgette, diced into 1cm cubes
1 fennel bulb, diced into 2cm cubes
40g baby spinach leaves, torn
250g cooked brown rice
1 cooked beetroot, peeled and diced into 2cm cubes
85g cherry tomatoes (approx 6), halved
Juice of 1 lemon
5 sprigs basil or 10g basil picked basil leaves, torn
Pinch of sea salt 
5-8 grinds black pepper
1 tbsp olive oil
1 shallot, peeled and roughly chopped
1 courgette, diced into 1cm cubes
1 fennel bulb, diced into 2cm cubes
2 cups baby spinach leaves, torn
2 cups cooked brown rice
1 cooked beetroot, peeled and diced into 2cm cubes
1/2 cup cherry tomatoes (approx 6), halved
Juice of 1 lemon
5 sprigs basil or 1 cup basil picked basil leaves, torn
Pinch of sea salt 
5-8 grinds black pepper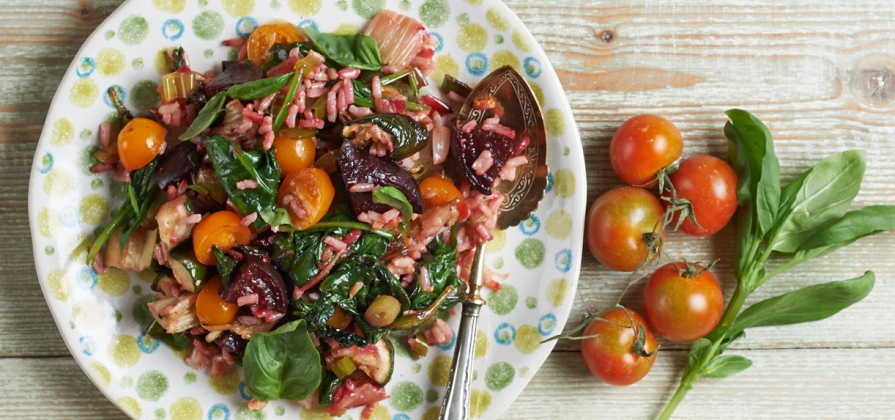 For a hearty plant-based dish, this brown rice tabbouleh is the ideal choice. It's packed with colour and flavour. If you have any leftovers that you choose to have for lunches, make sure you thoroughly re-heat the rice to boiling point before eating.
Heat the olive oil in a frying pan and gently sauté the shallot for 2-3 minutes, until it just begins to soften.
Add the courgette and fennel and cook for a further 5 minutes over a medium heat until just beginning to soften, but still retaining their bite. Add a splash of water if the pan becomes too dry.
Remove from heat and stir the torn spinach leaves into the pan with the warm vegetables.
Place the cooked rice in a bowl and add the cooked vegetables, along with the prepared beetroot and tomatoes.
Add the lemon juice, torn basil leaves and seasoning, and gently toss so that everything is well combined.
---