green and red cacao bark
https://calgaryavansino.com/recipes/green-red-cacao-bark/
Ingredients
250g raw cacao butter
100g cacao powder
2 tbsp maple syrup (3 tbsp if you want a milder chocolate taste)
1 tsp Maldon salt
handful of roughly chopped pistachios (toast these first if you have time)
handful of goji berries
1 cup raw cacao butter
1 and 1/4 cups cacao powder
2 tbsp maple syrup (3 tbsp if you want a milder chocolate taste)
1 tsp Maldon salt
handful of roughly chopped pistachios (toast these first if you have time)
handful of goji berries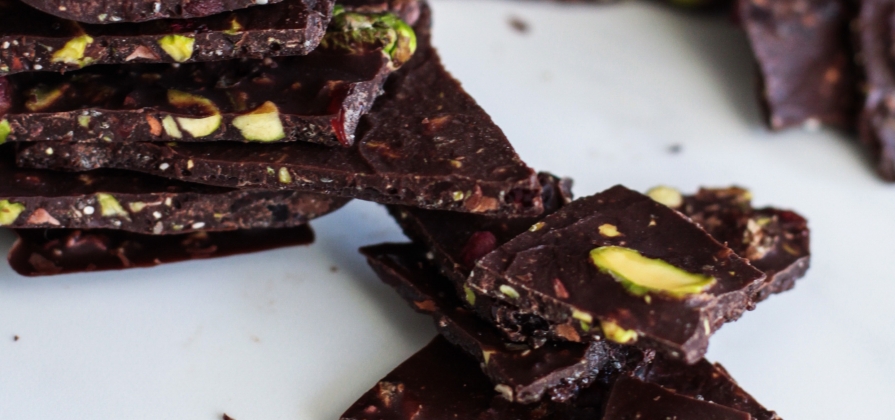 This makes a delicious treat for all the family – don't expect it to last long! My children go absolutely crazy when they see me making this and all love getting to stab it into pieces once it has frozen. Be adventurous with what you mix into your bark – there's lots of ways to play with this recipe to make it your own.
On a medium heat, melt the cacao butter in a bain marie or using a glass bowl over a pot of boiling water. Once it has a liquid consistency, add in the cacao powder. This melts quickly so whisk frequently.
Then add in maple syrup and salt. When ready, immediately our the mixture on to a baking sheet covered in parchment paper. If you want a thicker bark, you can use a smaller baking dish also covered in parchment. Pour evenly across the tray, then sprinkle the pistachios and goji berries evenly over the top.
Feel free to play around with different toppings if you want – coconut flakes, almonds, pine nuts and cranberries are all delicious. Then put in the fridge for two hours to set. Once ready, break into rough pieces with a knife and serve. Keep stored in the fridge.
---