beetroot soup
https://calgaryavansino.com/recipes/beetroot-soup/
Ingredients
2 tbsp extra virgin olive oil
1 onion (100g), finely chopped
1 carrot (70g), peeled and finely chopped
1 potato (175g), peeled and chopped
1 large clove garlic, finely grated
1 tsp ground cumin
1 bay leaf
1 litre vegetable stock
425g beetroot, peeled and freshly grated
Salt and pepper, to taste
3 stems of chives, chopped
2 tbsp extra virgin olive oil
1 onion (3/4 cup), finely chopped
1 carrot (1/2 cup), peeled and finely chopped
1 potato (1 cup), peeled and chopped
1 large clove garlic, finely grated
1 tsp ground cumin
1 bay leaf
4 cups vegetable stock
5 cups beetroot, peeled and freshly grated
Salt and pepper, to taste
3 stems of chives, chopped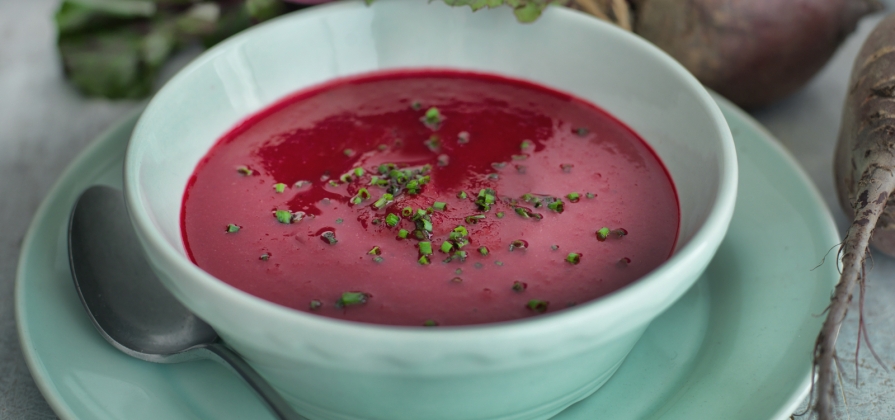 I'm a huge fan of beetroot; there is so much you can do with it and it's such a wonderful vibrant colour. My daughters both love this soup – most likely because they look like they're wearing 'lipstick' after they've eaten it – but also because it is very delicious. You can serve it hot or chilled, making it the perfect meal to make in larger batches and have ready for busy days or relaxed summer evenings.
In a large saucepan, add the extra virgin olive oil and bring to a medium-heat. Add the chopped onion and carrot and cook, stirring gently, for about 3 minutes or until slightly softened.
Next add the chopped potato and cook, still stirring, for a further 5 minutes. Add the garlic and cook for 1-2 minutes until you can smell it cooking, then add the ground cumin and bay leaf and stir for a minute before adding the vegetable stock.
Increase the heat to medium-high and bring the stock to a boil, add the grated beetroot and cook for a further 8-10 minutes or until all of the vegetables are very tender.
Remove from the hob and allow the soup to cool slightly. Discard the bay leaf. Using a hand-held blender, blitz the soup until smooth. If you don't have one of these, you can also use a standing blender (although you may need to do it in batches).
Season with salt and pepper, to taste. If it seems a bit thick, add a little extra water. It's now ready to either chill in the fridge or to heat up slightly over a low-heat, ready to be served.
Shortly before serving up, prep your chives. Divide the soup into bowls and sprinkle the chives over the top. You may also want to add an extra drizzle of olive oil to the top of each soup.
---