sicilian aubergine (eggplant) caponata
https://calgaryavansino.com/recipes/sicilian-aubergine-eggplant-caponata/
Ingredients
6 tbsp olive oil
3 medium or 2 large aubergines, cut into 2-3cm chunks
1 tsp dried oregano
1 tsp sea salt
1 tsp freshly ground black pepper
3 celery stalks, chopped
1 large yellow onion, peeled and finely chopped
2 cloves garlic, peeled and finely sliced
1 small bunch fresh flat-leaf parsley, roughly chopped, plus extra to garnish
2 tbsp capers
1 tbsp white wine vinegar
1 tbsp balsamic vinegar
1 tbsp maple syrup
5 large ripe tomatoes, roughly chopped
1 tbsp tomato paste
2 tbsp pine nuts, toasted
6 tbsp olive oil
3 medium or 2 large aubergines, cut into 2-3cm chunks
1 tsp dried oregano
1 tsp sea salt
1 tsp freshly ground black pepper
3 celery stalks, chopped
1 large yellow onion, peeled and finely chopped
2 cloves garlic, peeled and finely sliced
1 small bunch fresh flat-leaf parsley, roughly chopped, plus extra to garnish
2 tbsp capers
1 tbsp white wine vinegar
1 tbsp balsamic vinegar
1 tbsp maple syrup
5 large ripe tomatoes, roughly chopped
1 tbsp tomato paste
2 tbsp pine nuts, toasted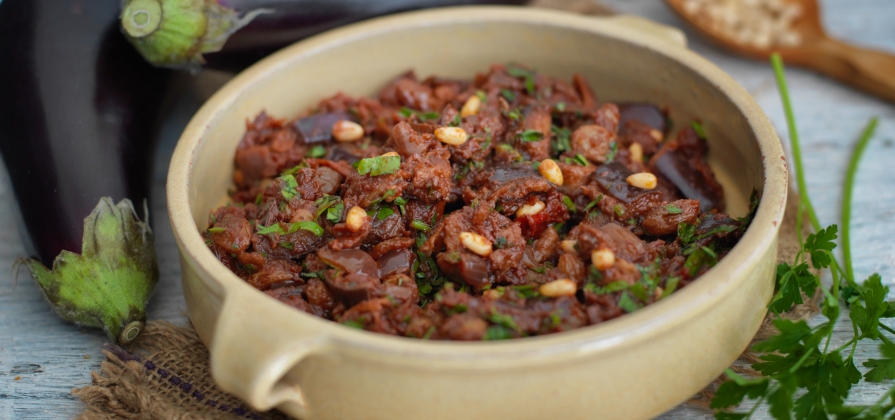 Inspired by wonderful trips to Italy, this recipe works well as a side dish with baked fish or as a meal on its own served with polenta. The flavours are intense and brilliantly Sicilian.
Heat 5 tablespoons of olive oil in a large pan and add the aubergine chunks. Add oregano, salt and pepper, then stir around the aubergine so it is fully coated in seasoning and olive oil. Cook on a relatively high heat for around 5-10 minutes, stirring often until the aubergine is golden all over.
In a separate pan, add 1 tablespoon of olive oil and add the celery, onion, garlic and parsley (save some herbs for seasoning) and cook for another 10 minutes until everything softens. Add a bit more olive oil if needed.
Add the capers, both vinegars, maple syrup, chopped tomatoes and tomato paste. Simmer for another 15 minutes, stirring regularly.
Season with salt and pepper. Add in the aubergine chunks and toasted pine nuts at the end and sprinkle with chopped parsley.
---