black bean burgers
https://calgaryavansino.com/recipes/black-bean-burgers/
Ingredients
225g cooked black beans or 1 x 400g can black beans, drained and rinsed
1 garlic clove, chopped
1/2 onion, roughly chopped
Juice of 1/2 lemon
1 medium egg yolk, beaten
25g flat-leaf parsley leaves, finely chopped
25g Parmesan, finely grated
40g toasted breadcrumbs (use gluten-free if possible)
2 tsp Dijon mustard
1/2 tsp salt
1/2 tsp pepper
1 tbsp cumin
1 and 1/3 cups cooked black beans or 1 x 400g can black beans, drained and rinsed
1 garlic clove, chopped
1/2 onion, roughly chopped
Juice of 1/2 lemon
1 medium egg yolk, beaten
2 cups flat-leaf parsley leaves, finely chopped
1/4 cup Parmesan, finely grated
1/2 cup toasted breadcrumbs (use gluten-free if possible)
2 tsp Dijon mustard
1/2 tsp salt
1/2 tsp pepper
1 tbsp cumin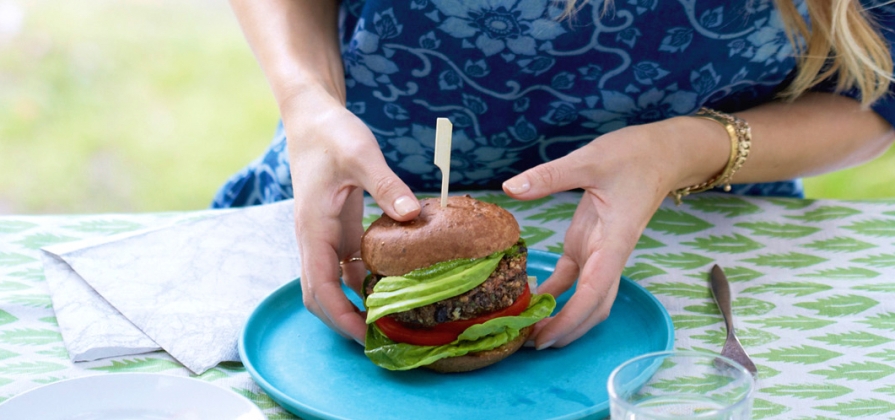 'Burger night' at our house is always a highly anticipated meal – it's guaranteed fun to stack your own black bean burgers with lots of favourite toppings to make it bespoke. I am always trying new vegetarian burger recipes but this is one of my family's top choices and we make it over and over again. Try serving these with a fresh spinach salad, topped with toasted pine nuts and chopped apple.
Pre-heat the oven to 190C/374F/gas 5. Line a baking sheet with baking parchment.
Pour half of the black beans, plus the garlic, onion and lemon juice into a food processor. Pulse until smooth.
Place the mixture in a mixing bowl and add the other half of the black beans and all of the other ingredients. Mix together so that everything is incorporated and well combined.
Divide the mixture into four and shape into burgers. Place in the fridge for 15-30 minutes on the prepared baking sheet to firm up.
Bake in the oven for 15-20 minutes, until they are cooked through. Once cooked, place in a wholemeal bun with your favourite fillings (try mashed avocado, baby gem lettuce leaves, chopped tomato, a homemade dressing), or you can eat separate as part of a salad.
Recipe extracted from Keep It Real by Calgary Avansino (Yellow Kite). Photograph by Kristin Perers.
---