broccoli 'meatballs'
https://calgaryavansino.com/recipes/broccoli-meatballs/
Ingredients
275g broccoli florets (about one large head)
125g plain almonds (not roasted, salted or sweetened)
1 large egg
10g basil leaves, finely chopped
10g flat-leaf parsley, finely chopped
1 tbsp coriander leaves, finely chopped (optional)
10g finely grated Parmesan cheese
2 garlic cloves, finely chopped
1/8 tsp cayenne pepper, or to taste
salt and pepper
4 cups broccoli florets (about one large head)
1 cup plain almonds (not roasted, salted or sweetened)
1 large egg
2/3 cup fresh basil, chopped finely
1 cup flat leaf parsley, chopped finely
1 tbsp coriander leaves, finely chopped (optional)
1/8 cup Parmesan cheese, grated
2 garlic cloves, finely chopped
1/8 tsp cayenne pepper, or to taste
salt and pepper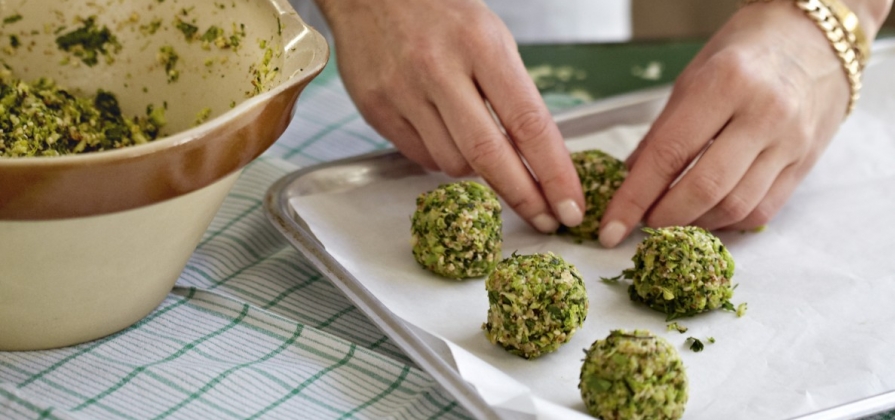 The much-loved traditional meatball is a classic and a staple in many households, so I wanted to create a plant-friendly version that my kids would still plead for and my husband and I could enjoy as a meal. Voilà – I give you the broccoli 'meatball'. You can serve these the traditional way – topped on spaghetti with a home-made tomato sauce – or you can enjoy them as I do: with hummus and a big green salad or as part of a mezze selection. Either way, these are the new definition of comfort food.
Preheat the oven to 180C/350F/gas 4 and line a baking sheet with baking parchment.
Place your broccoli florets in a steamer and steam for approximately 10 minutes, until tender and still bright green, rather than mushy and going grey; keep checking them with a knife to ensure they don't overcook. Once steamed, refresh in cold water to stop the cooking and leave in a colander to drain.
In a food processor or high-powered blender, grind the almonds until they are a fine powder and place in a mixing bowl. Then pulse the steamed broccoli in the food processor or blender until finely chopped (not puréed) and place in the bowl with the almonds.
Whisk the egg in a separate small bowl, then add to the mixing bowl along with the basil, parsley, coriander, if using, Parmesan, garlic and cayenne pepper, and season with salt and pepper.
Mix everything well, until thoroughly combined, then using your hands, make approximately 12 balls, pressing them firmly together to be sure they retain their shape.
Place the balls on the baking sheet, making sure they are not touching. Pop in the oven for 25 minutes or until they are just turning golden brown.
Get your kids involved with rolling the balls as it can be lots of fun. However, make sure they wash their hands thoroughly afterwards due to the raw eggs.
Recipe extracted from Keep It Real by Calgary Avansino (Yellow Kite). Photograph by Kristin Perers.
---