dairy-free tomato and pepper soup
https://calgaryavansino.com/recipes/dairy-free-tomato-pepper-soup/
Ingredients
5 sun-dried tomatoes (dried, not in oil), chopped
1 yellow onion, roughly chopped
2 garlic cloves, crushed
2 tbsp olive oil
10 large ripe tomatoes, chopped
5 red peppers, seeded and roughly chopped
1 jar (approximately 250ml) or 250g, drained roasted red peppers
2 celery sticks, chopped
600ml vegetable stock
pinch of salt and ground black pepper
1 tbsp mixed herbs or pinch of dried chilli flakes, optional
fresh basil leaves or homemade pesto, to garnish
5 sun-dried tomatoes (dried, not in oil), chopped
1 yellow onion, roughly chopped
2 garlic cloves, crushed
2 tbsp olive oil
10 large ripe tomatoes, chopped
5 red peppers, seeded and roughly chopped
1 jar (approximately 250ml) or 1 cup, drained roasted red peppers
2 celery sticks, chopped
2 and 1/3 cup vegetable stock
pinch of salt and ground black pepper
1 tbsp mixed herbs or pinch of dried chilli flakes, optional
fresh basil leaves or homemade pesto, to garnish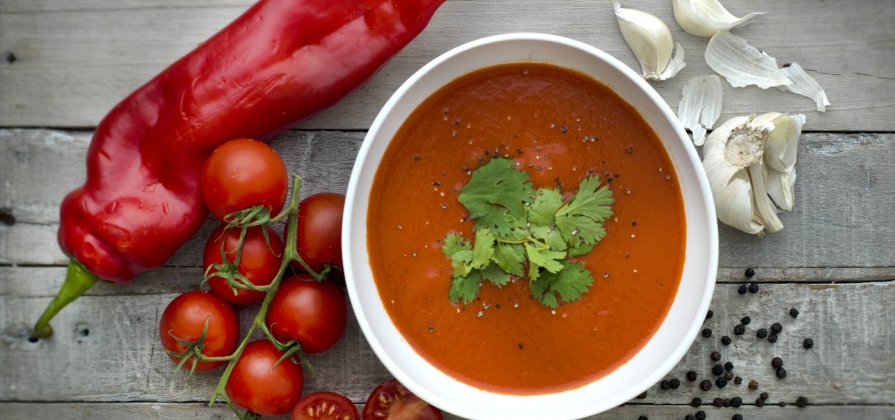 You just don't need rich dairy cream in soups like these – the tomatoes are so full of vibrant, full-bodied flavour on their own. This recipe is super simple and a great one to try with kids too.
Begin by softening the sun-dried tomatoes in a small pan with boiling water for approximately 10 minutes. When done, remove from water and set the tomatoes aside.
In a large pan, place the onion, celery and garlic along with 2 tbsp of olive oil and cook until softened. The onion and garlic should be beginning to turn golden. Add the softened sun-dried tomatoes to the onions and garlic, along with chopped tomatoes, chopped peppers and roasted peppers. Cook for 5-6 minutes until they begin to soften.
Add the stock and season with salt and pepper. Cover and simmer for 20 minutes until the vegetables are tender and cooked. Mix in the herbs and dried chillies if desired for extra flavour. Remove pan from heat and blend ingredients with food processor or hand-held liquidiser. Heat back up to desired temperature, add some fresh basil leaves or a light drizzle of homemade pesto to garnish, and serve.
---