extra green brown rice risotto
https://calgaryavansino.com/recipes/green-dairy-free-brown-rice-risotto/
Ingredients
100g onion, finely diced
60ml extra virgin olive oil
175g brown rice
500ml vegetable stock
30g fresh basil leaves
40g fresh baby spinach leaves
60g pitted green olives
50g walnuts
30g pine nuts, toasted, plus tbsp extra to garnish
1 clove garlic
1 tbsp lemon juice
Salt and pepper, to taste
1 and 3/4 cup onion, finely diced
1/4 cup extra virgin olive oil
1 cup brown rice
2 cups vegetable stock
2 cups fresh basil leaves
2 cups fresh baby spinach leaves
1/2 cup pitted green olives
1/2 cup walnuts
1/2 cup pine nuts, toasted, plus tbsp extra to garnish
1 clove garlic
1 tbsp lemon juice
Salt and pepper, to taste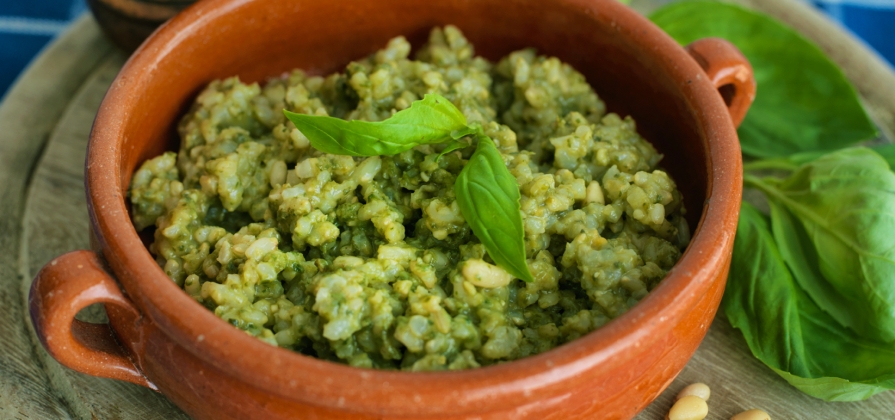 Growing up with an Italian father, it was hard not to fall in love with the comforting flavours of risotto. That said, it doesn't have to be stodgy and full of carbs – there are plenty of ways to pack it with lots of plants and goodness. This extra green brown rice risotto is the perfect recipe.
In a medium pan, sauté the onion in the olive oil until golden. Add the rice and stir through for 1 minute.
Add 250ml/one cup of vegetable stock and continue to stir through the rice, over a low-medium heat, until it has absorbed some of the stock. This should take about 7-8 minutes.
Then add the remaining cup of stock, stir once and cover the pan with a lid. Allow to simmer, gently, for about 15-20 minutes, checking occasionally to ensure the mixture isn't drying out. Cook until the rice is tender but not soft and a little stock remains; I like my risotto to have a slight 'al dente' bite.
In a blender, place the basil, spinach, olives, walnuts, pine nuts, garlic and lemon juice and pulse until combined. When ready, and once the risotto has absorbed most of the vegetable stock, mix together. Replace the lid and cook for a further 5 minutes over a very gentle simmer, adding a couple of tablespoons of stock if the mixture begins to dry out. Add salt and pepper to season.
Serve with a sprig of basil on top and some pine nuts scattered over the top. If you're not vegan, you can always grate some Parmesan cheese over the top.
---