cucumber dill dip
https://calgaryavansino.com/recipes/cucumber-dill-dip/
Ingredients
20g bunch fresh dill, thick stems chopped off (or 10g prepared weight)
15g bunch of mint or 10g picked mint leaves, plus a few extra leaves to garnish
1/2 large cucumber or 125g de-seeded and grated cucumber
300g plain greek yoghurt
juice of 1 lemon
1/2-1 clove of garlic, depending on taste, finely grated
Salt and pepper, to season
1 cup bunch fresh dill, thick stems chopped off (or 1/2 cup prepared weight)
1 cup bunch of mint or 1 cup picked mint leaves, plus a few extra leaves to garnish
1/2 large cucumber or 1 cup de-seeded and grated cucumber
1 and 1/4 cup plain greek yoghurt
juice of 1 lemon
1/2-1 clove of garlic, depending on taste, finely grated
Salt and pepper, to season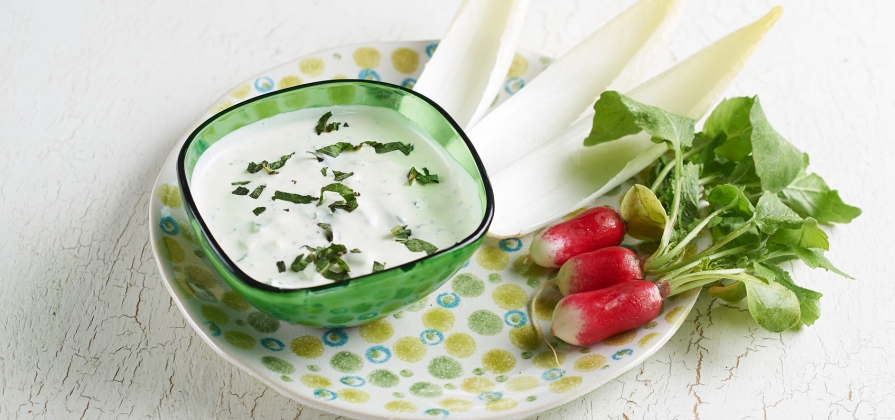 This delicious fresh Greek dip takes me back to summer holidays every time I eat it – zingy, light and super simple to make. It goes brilliantly with salads, vegetable kebabs, grilled fish or crudités. 
Blend the dill and mint leaves in a food processor, or chop finely by hand.
Slice the cucumber in half length-ways, de-seed and grate it finely. Place the grated cucumber in a sieve and give it a few gentle squeezes with your hand to remove any excess water.
Place the cucumber in a bowl, and add the chopped herbs, yoghurt, lemon juice and garlic. Season to taste, and mix so everything is well combined. Garnish with a few chopped mint leaves, scattered on top.
---